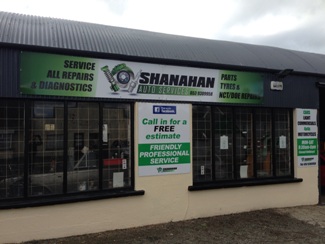 Keith Shanahan has been involved in the motor trade, working in a motorcycle workshop, main dealerships and in his own business, for over 20 years. Starting out as an apprentice he has progressed to fully qualified mechanic and then held the positions of head technician and service manager before deciding to start his own business in 2008. He was delighted when the opportunity arose to take over his current premises in Ballyedmond in 2011.
The team in Shanahan Auto Services also includes:
Jim, a mechanic with a vast experience amassed in 30 years of motor trade experience, from motorbikes, heavy plant and machinery to cars, 4x4s and light commercials.
Maurene, who runs the admin side of the business, dealing with customers queries, invoicing, bookings, pricing and much more.
David, a mechanic with many years of experience in the trade working in both independent and main dealer workshops throughout his career.
Our dedicated team of professionals have vast experience, knowledge and engage in ongoing training to keep up to date with modern vehicle systems, service and diagnostic techniques. We are constantly investing in training, new equipment and technical information to keep our garage at the forefront of modern garages. This includes training on electric and hybrid vehicles which are starting to really hit the market now.
We are also an accredited member of The DPF Doctor Network, a network at the forefront of DPF diagnostics, on vehicle cleaning and repairs.
So if it's routine maintenance on a single vehicle or a fleet, vehicle diagnostics, a blocked DPF (diesel particle filter), EGR valve problem or some other issue with your vehicle, give us a shout.  
We frequently work on classic vehicles, modified and performance vehicles, specially adapted vehicles, campers aswell as all other types of cars, 4x4s and light commercial vehicles & vans. Wheter its one vehicle or a fleet, we have you covered.
At Shanahan Auto Services we take our obligations to the enviroment very seriously, all waste products are disposed of responsibly in an environmentally friendly manner.
We are a local garage offering a friendly and professional service and we welcome feedback, recommendations and compliments from our customers as we believe in doing more than giving customers just what they expect from any garage, we want to exceed their expectations as referrals and repeat customers are what we want in our garage.